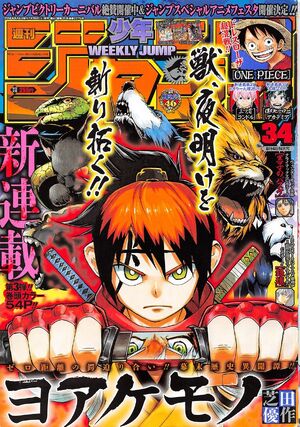 Yoakemono (ヨアケモノ) is a manga series written and illustrated by Yusaku Shibata. It was serialized in Weekly Shōnen Jump from July 19, 2014 to November 10th, 2014, and published into two tankōbon volumes.
The two boys Gin and Jinro form a tough team in the mountains. One day, Gin decides that the only way they can move forward is to travel to the capital and join the Shinsengumi. It soon becomes clear, though, that they are not tough enough to handle the kind of people they find in the capital. Some of them, including the current Shinsengumi members, smell like beasts to Jinro, and they seem to have unusual abilities. After Gin's tragic death, Jinro is determined to become stronger and join the Shinsengumi in his place!
Ad blocker interference detected!
Wikia is a free-to-use site that makes money from advertising. We have a modified experience for viewers using ad blockers

Wikia is not accessible if you've made further modifications. Remove the custom ad blocker rule(s) and the page will load as expected.